Welcome EALTHY members, get your FREE account
As a first year EALTHY member you are entitled to a free School Account on MedicalEnglish.com worth $79. This will enable full access to the program for one teacher and unlimited students (max 25 students at a time but reusable).
To redeem your free acount, please:
1. Create an account on this site (it's quick!)
2 Send an email to info@medicalenglish.com. Please include your account email address and attach a photo or scan of your latest membership receipt from EALTHY.
3. That's it! Enjoy.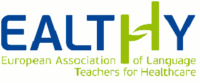 Contrada Mondrigo 13,
6616 Losone, SWITZERLAND
admin@ealthy.com
What will I actually be getting?
Can I add more students?
Yes. Currently there is actually no hard limit of students. But when we do implement limits, extra students will be available for a nominal fee.