English For Nursing Online Course
Are you looking for supporting activities for your EFL classroom?
We provide 20 UNITS OF MEDICAL ENGLISH MATERIALS to share with your students. Students can create an account and complete activities. Teachers can track them and even help grade them if you want.
How does it work?
The course is self-paced and contains over a hundred activities. It can be completed with or without a teacher. This course is even "gamified", meaning students can compete for the highest scores in their country or around the world.
Certification Included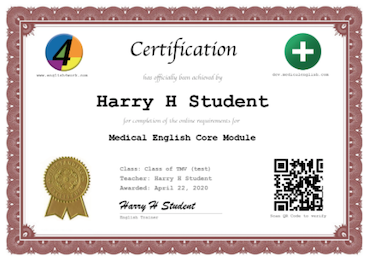 Students who complete the course will get a printable certificate they can share with friends and potential employers.