Medical English Online Course
"I have just come across this site - really nice. Great quality!"

- Catherine R (teacher)


"I just finished a unit of the course and find it amazing."

- Gulgun F (student)


"Congratulations! I love the course!"

- Basi G (student)

Are you a teacher or student of Medical English or English for Health Care? MedicalEnglish.com is suitable for university and professional use including: doctors, nurses, dentists, emergency medical staff, physical therapists, and other medical and health care fields.
Our course is a full-featured, free ESP (English for Specific Purposes) study program. It's built from the ground up to be fast, fun, and easy to use. One user has even called it "amazing".
We Now Have 20 Full Units Online
What's Included?
• Activities - interactive writing, speaking, listening, and spelling exercises
• Download Section - MP3s and PDFs for offline and classroom usage
• Certification - downloadable certificate for students
• Talking Medical Dictionary - identify and pronounce key vocabulary
• Achievements - students get badges on their profile page when they pass milestones
• World Ranking - students can match their scores against a database of users worldwide

How does it teach?
MedicalEnglish.com includes a wide range of activities. All that's needed is a web browser and an Internet connection. It even works on smartphones.
What level are the course materials?
The course material is geared for intermediate to advanced English speakers. This would be equivalent to levels A2, B1, and B2 levels on The Council of Europe Language Level Scale.
Certification Included
Students who complete the course will get a printable certificate they can share with friends and potential employers.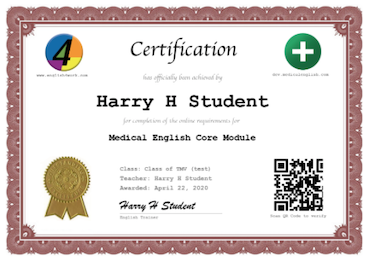 Who are you guys? How can a course of this quality be free?
We are English For Work, a company that specializes in English for Workplace training programs for various industries including: Information technology, hospitality, and accounting. Although we do charge for some of our courses, this one is free. Why? Because we want it to be the most popular Medical English course in the world.